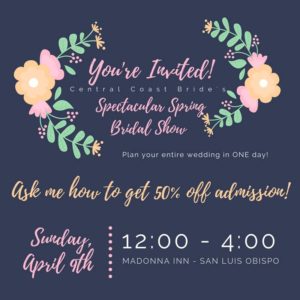 Spring Bridal Show April 9th, 2017
We are excited to announce that Pomar Junction Vineyard & Winery will be taking part in Central Coast Bride's Spring Bridal Show. Make sure you visit our booth, enter to win special prizes and take advantage of our expo discount.
Use our unique coupon code POMAR to receive 50% off admission.
To purchase tickets, click on the image on the right and follow the link.
We hope to see you there!
About the Venue
Pomar Junction is a family owned and operated vineyard and winery in the heart of California's Central Coast wine country. Surrounded by sustainably-farmed vines, picturesque views from every angle, and the rustic furnishings of real old-fashioned train cars, Pomar Junction is the ideal venue for a wedding that feels far away from the hustle and bustle of modern life.  With a full-service kitchen for caterers, space to seat up to 225 guests in lush gardens under the ancient oak tree, private quarters for the wedding party's preparations, tractor rides for guests through the vineyards, proximity to numerous lodging opportunities and – of course – world-class wines available at your fingertips, Pomar Junction Vineyard & Winery is suited to make any couple's special day truly unforgettable!
Wedding Package -$5900
Pomar Junction Winery's country inspired grounds is the perfect setting to exchange vows in an unforgettable way. Included in the $5900 site rental fee are the following luxuries:
Day-of wedding coordination with our Pomar Junction Wedding Planner, Amy Boggs. Her service begins 1 month prior to your wedding day to help you finalize wedding details.
Use of venue for engagement photos.
Use of venue for wedding rehearsal for 1 hour.
Use of Hen House Cottage for the wedding party to get ready the day of.
 Use of venue from 5:30 pm -10:00 pm for up to 200 guests. $20/person for additional guests.
Use of 60" round tables and brown chiavari chairs for 100 guests.
Use of patio furniture: 12 picnic tables, bistro tables and chairs.
Use of 100 Pomar Junction wine glasses. $5 fee for every missing/broken glass at the end of
the event.
Set up and service at one bar for pre-ceremony, cocktail hour, and reception.
Use of 8 ft. barrel bar (8 ft. granite slab sitting on top of two barrels)
Complementary wine tasting for you and your guests as they arrive before the ceremony. Trash receptacles, bags and removal.
On-site parking and parking attendant.
On-site restrooms are provided. For events with more than 50 guests, Pomar Junction will
rent portable restrooms (included in the site rental fee).
 Use of wood deck for ceremony and/or dance floor.
Minimum of 1 security attendant for weddings/events of 100 people or more
Other Considerations:
Wine and Sparkling Wine must be purchased from Pomar Junction. Keg beer is permitted (no bottles or cans), and must be approved by Pomar Junction. Hard alcohol is NOT permitted.
Renter must provide general liability event insurance certificate.
 All amplified music must be turned off at 10:00 pm, in keeping with the county -wide noise ordinance.
Optional
Two (2) hours of tractor and gondola tours throughout the vineyard for you and your guests– $500
Overnight rental of the on-site 2 bedroom Hen House Cottage-$400/night (if available).
Facility rental hours are from 5:30 pm-10:00 pm. The tasting room may be closed for ceremonies earlier than 5:30 pm for a rate of $500 for every 1⁄2 hour. The wedding party and vendors are welcome to come earlier in the day. We ask that they are sensitive and respectful of our tasting room guests and use your provided locations to gather in before the wedding.
Wedding planning: Please inquire for wedding planning services beyond 1 month prior to the event date. See attached for the included list of services.
 Rehearsal dinner site rental $200. 1 hour of rehearsal time is included in the site rental fee.
The Next Step
Schedule a tour of Pomar Junction filling out the from below.
Love what you see? Pay the non-refundable $1500 deposit (this amount is deducted from the
site rental fee) and sign our wedding contract to reserve your date.
Pay the remaining balance 30 days prior to your event date. Once we have received your
payment, we will put you in contact with our wedding planner so you can finish creating the
perfect wedding together.
Purchase your Pomar Junction wedding wine at least 10 days before the event date.
Have the best night of your life!!
Date of Event:
Included with the $5900 site rental fee is the day-of wedding coordination services of Amy Boggs. Artistic, detail-oriented and hard-working, we could not pick a better person to help you create the wedding of your dreams. If you are interested in hiring Amy to begin coordinating your wedding sooner than 1 month prior to the event date, please contact us for pricing.
Below is a list of her services that are included in our wedding package.
One Month Prior to Wedding Day
Coordinating assistance available to help make final decisions.
Work with you to create a wedding day timeline
Review any arrangements you have previously made with vendors.  Walk the venue, if needed, to go over any final layout details
Rehearsal
On-site for rehearsal
Work with you and your officiant to direct and coordinate the ceremony.
Pre-Ceremony
Greet vendors and be the point person when they arrive, instructing them where to set-up, etc.
Ensure bouquets and boutonnieres are delivered to proper locations. Distribute to wedding party if needed.
Communicate any last minute details to the wedding party.
Ensure proper set-up of ceremony site (by other vendor), per diagram given from client.
Ceremony
Set-up any ceremony items: programs, guestbook, unity candles, etc.
Ensure that ushers/groomsmen/designated attendants arrive on time and are ready to escort guests.
Line up the bridal party for entrances down the aisle and help with timing and pace.
Cue ceremony musicians/DJ when bridal party is ready to begin processional.
Help turn the ceremony space over to reception space and store any items not needed at the
reception. Pre-Reception
Make sure your DJ/emcee can correctly pronounce the names in the wedding party.
Make sure your reception décor is set up according to plan
Meet with catering staff to confirm food timeline.
Set up guest book, cake cutting utensils and champagne flutes.
Make sure dining tab less are set up properly.
Ensure proper flow of cocktail hour food and drinks.
Reception
Encourage guests to take their seats at the appropriate time.
Help guests locate their escort cards, and dining table.
Locate and gather bridal party for their introduction to the reception.
Cue DJ/band to announce the entrance.
 Work with the DJ/band, photographer and videographer, bridal party and immediate family
when important events take place: i.e. first dance, parent dance, cake cutting, toasts.
 Distribute final payments/gratuities to vendors at the end of the night.
Collect gifts and personal décor items and ensure they reach the designated family member,
room and/or vehicle.
Remain easily accessible through the entire event. Help to prevent and remedy any problems or emergencies.
** Services are subject to change. Additional services are available at an additional fee**