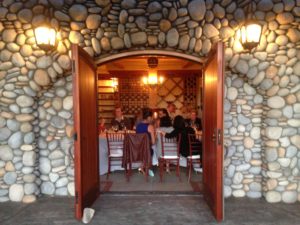 DETAILS:
Start off the Parlour Club Wine Pickup weekend with an amazing Farm to Table inspired Winemaker dinner in the Merrill Family wine cellar.   Using a BBQ and a wood-fired oven, Chef John McDevitt of Farmstead Catering will be crafting a delicious four-course menu, each paired with an award-winning Pomar Junction wine.
Date: Friday November 10th
Time: 6:00 PM
Place: Pomar Junction Vineyard & Winery 5036 S. El Pomar Rd., Templeton, CA 93465
Cost: $90 for club members; $105 for non-members
CLICK HERE to purchase tickets.
If you are a Pullman or Locomotive club member and would like to redeem your free dinner tickets for this event, please email parlour@pomarjunction.com or call the tasting room at 805-238-9940.
Winemaker Dinner Friday November 10th, 2017