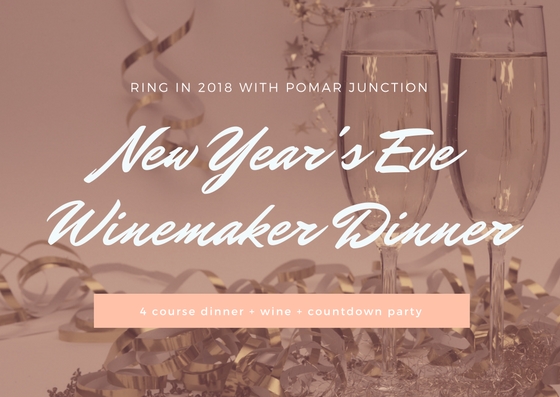 DETAILS:
Ring in 2018 with an unforgettable dinner in the Merrill Family Estate Wine Cellar at 7:00PM, Sunday December 31st.  Chef Nick Nolan of Society Cuisine will be preparing an elegant four course meal.  Each course will be paired with a different Pomar Junction wine. After dinner, the Merrill family will be opening their home for a countdown after-party.  Dance, play games and watch the ball drop as we toast to the New Year.
The intimate wine cellar seats 50 people. Space is limited so please make your reservations today.
$150 Per Person or $135 for Wine Club members
Date: Sunday December 31, 2017
Time: 7:00 PM
Place: Merrill Family Wine Cellar
Cost: $135 for club members; $150 for non-members
CLICK HERE to purchase tickets.
If you are a Pullman or Locomotive club member and would like to redeem your free dinner tickets for this event, please email parlour@pomarjunction.com or call the tasting room at 805-238-9940.